Course details
【Steamed chicken and raw chicken pot or brand of swine and seasonal vegetables】 <7 items in total> 4000 yen for drinking,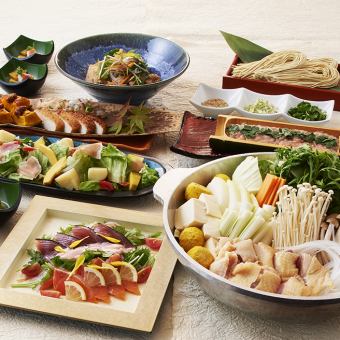 4000 yen
(Tax included) / 1 person 【Only dishes 2500 yen】
Reservation deadline

Until 21 o'clock on the desired shopping day
The chosen main! "Chicken and live Tsukune no kettokan pot" or "brand of swine and seasonal vegetables steamed" course is a course that you can enjoy the deliciousness of the meat ♪
Course menu
【Small pot】 Handmade seasonal small bowl
【Salad】 Raw ham's green enzyme salad
【Thirteenth】 2 kinds of fresh fish and scented vegetable carpaccio
【Selectable Main】
· Chicken and Chicken Pot Chickpot (choice soup / salt · ginger · red pepper)
Or
· Steamed brand of swine and seasonal vegetables
【Grilled Materials】 Seasonal vegetables Tadakura and Kushikino deep-fried pudding
【Lifts】 Fried chicken fried Eurin sauce
【Food】
· Nabe: Fukuyama Champagne noodles · condiments set with soup of pot
· Steamed cooking steak: seafood rose chirashi sushi
★ ★ ★ «All-you-can-drink plan» ★ ★ ★
Standard plan [cooking only] + 1500 yen
Premium Plan [Standard Plan] +250 yen
Platinum Plan [Premium Plan] +250 yen
★ ☆ ★ «Banquet reservation privilege» ★ ★ ★
※ Combined use of service benefits is not allowed.
【Award 1】 2 hours to earn money!
All-you-can-drink hours in 3 hours ⇒ shorten to 2 hours "at the price as it is"
«Rank up to premium plan» Everyone service
【Award 2】 All you can drink wine 1000 yen!
Male customer, there is no translation.
Course contents vary depending on the store.
◆ Depending on the arrival status, the cooking content may change.
2019/01/06 update